WHO WE ARE AND WHAT WE DO

3-D Revolution Productions is a Dublin, Ireland-based company specialized in 3D animation and then specifically 3D and 4D Stereoscopic animation. We have been working on the cutting edge of Stereo 3D, 4D, 5D, 4K Ultra-HD, HFR High Framerate and HDR High Dynamic Range production since 1999.
Our services include full 3D and 4D film production, post-production assistance, consultation and supervision.

We also offer 2-D to 3-D conversion services for live-action to CGI animation, stop-motion and hand-drawn animation.
Our 2013 Shoreel:
3D STEREOSCOPIC FILM PRODUCTION AND CONSULTANCY
4D FILM PRODUCTION AND CONSULTANCY

3D Stereoscopic Consultant Alexander Lentjes of 3-D Revolution Productions consults on a regular basis Global Animated Feature Film, Television, Cinematic Commercial, Special Event and Handheld Device productions looking to go 3-D.
Alexander Lentjes offers consultancy, production supervision, Quality Checking and hands-on production assistance if and when required, besides giving workshops and masterclasses at world-class 3D and future media events.
Some of the projects and clients work for: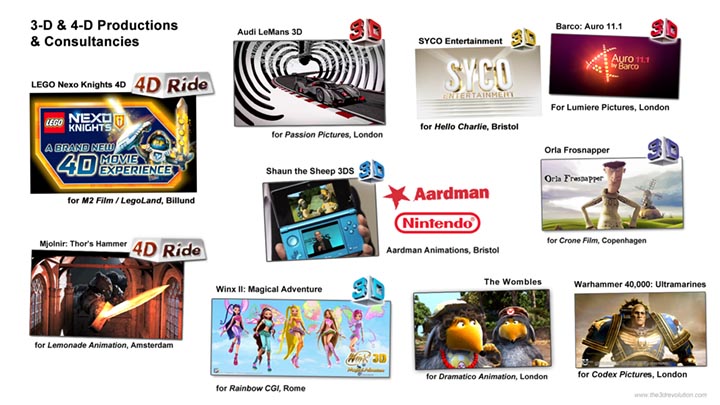 2D TO 3D FILM & TELEVISON CONVERSION

At 3-D Revolution Productions we can take on specialist 3D conversion projects like television special or series conversion, animated content conversion and Large Format to handheld device / tablet interaxial reworking.


2-D to 3-D conversion offers the following advantages for live-action and animated content alike:
A cheaper production alternative to Native 3-D Shooting or Rendering
A necessity for complex live-action and animation productions
A realistic process for handheld repurposing of Cinema and IMAX-released 3-D content
Large volume conversion like full television series 3D conversion is now a realistic budget option. Contact 3-D Revolution Productions to inquire about conversion options and costs.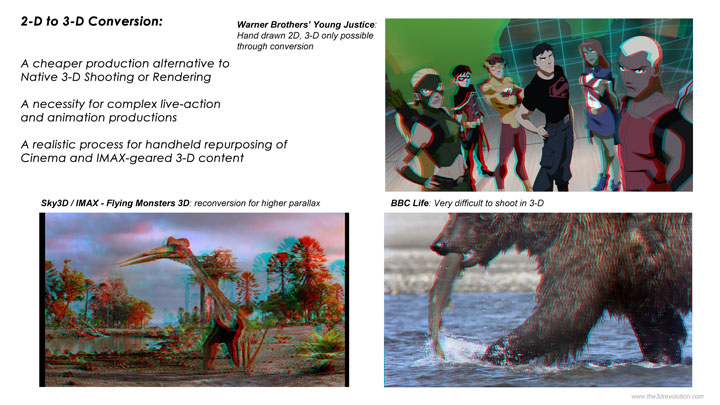 2D & 3D PRE-PRODUCTION, PRODUCTION & POST-PRODUCTION

3-D Revolution Productions holds a decade and a half of hands-on animation production experience on multiple scales from budget-conscious production to medium and large scale budget international co-production. This production experience can be yours for your pre-production to post-production needs. 2D, 3D and 4D CGI animation, live-action post and VFX assistance is what we offer. Contact us for a quote.